Welcome
Harmony Children's Services is your first choice for high quality care. With a fresh and innovative approach to help parents and corporate parents with their respite and full time placement needs.
Harmony is capable of meeting the needs of children or young people with: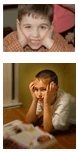 Emotional, social and behavioural challenges
Learning difficulties
Children in need of a secure and safe family environment
We are registered with Ofsted and can accommodate children between the ages of 5-17 at our high quality home.
Harmony provides a committed "family" of staff to offer support, guidance and encouragement to help the individual child to overcome and progress on from the issues that have or are affecting them.
Harmony Children's Services offer:
A genuine passion to provide a quality service for the child, parents and local authorities.
An extended, supportive and caring family-orientated environment created with involvement
from the Director, Service Manager, Managers, Staff, Residents and Parents.
Open and transparent communication between Harmony staff and relevant professionals.
Regular evaluations based on feedback between residents, families and social workers.
Regular parents meetings and forums to allow input into how their son/daughter is cared for
and their expectations for their children's care where appropriate.
Innovative and child centred care practices.